Cover by Nachiket
Part 1: Introduction (Exchanging Audio)
(Skip to part 4 for the final film)
Well, 2 months back it all started. We got a message that we will be doing our exchange. We didn't even know it's an animation project. We had to form a team of 6 members. Apparently, all the animators formed their own group and I was desperate to get more people who will actually work for our project. So our team, Me, Sree Sriya, Shruti Sudha Sahu, Priyanka, Tanmay and Nachiket.
We were asked to design this 2-minute audio. We ideated, created a story and designed a 2-minute soundtrack. Apparently, we were supposed to exchange the audios with other teams. (from other colleges) Also, we were asked to pick a soundtrack. By the way, did I tell you the whole project is managed by the KHM school in Germany?
If you wanna listen to our audio track, it's here. (Which apparently nobody picked coz each team from KHM made 2 or 3 audios)
Then… we got audio made by Jana Marzi from a KHM team. It's mostly rubbish talk which won't make sense and she is doing her first sound design. The audio was good at first, but the more we listened to it, the more our ears hurt. Shekar (our beloved director who is responsible for us taking part in the project) told that this audio is challenging for us to animate. And that's when we actually officially know that we were going to animate on that audio. Here is the audio she gave us:
We made multiple stories, got one approved and we again changed the story because we figured we're all lazy and the story can be much better. KHM's faculty Isabel's words seemed to be the final take among everyone who critiqued us there. If she is not happy others won't be. Anyways we got the final story approved. KHM gave us all a timetable but never followed it. If we made the animatic they got angry, and if we didn't make the animatic the next week, they seemed to get angry again.
Anyways, we still had to decide on the medium we were going to animate. Shekar told us that he will provide us with experienced faculty like Sound designers Bhasker or Troy or someone like Prakash Moorty. We did not get anyone till now. We made our 4th to 5th version of animatic and went to Shekar(as he is the only faculty experienced enough to guide us). He made us a bunch of corrections and he also made an entire animatic to further explain to us. After the discussion, we figured we can change the concept to even better.
'This is the part where the doom starts'.
Part 2: Doom
(Skip the next 2 paragraphs, it's mostly ranting)
This is where everything started to fall apart and made us work closer. Shekar gave us an animatic right? We did not follow it. I explained to my group that it's confusing. But miscommunication happened. We showed the confusing animatic and Shekar lost it. After we came to another group that did not even start to work. You can imagine the rest. We were sworn at and shouted. I left the meet. I could not hold it as most of the swearing were pointed at me. (As I was the only one talking, I kinda represented the class at this point)We saw Shekar in a never before form. I had a fever that night. Funny times.
Well, I asked Shekar sorry and promised this won't happen again. We worked like F in the next 2 weeks and made a story that is like 500 times better than the previous concept. We had 2 mediums in mind. One is block printing, which Sriya explored and another is pixel art which Priyanka explored. We decided that we'll work on pixel art medium (credits to Priyanka for being very excited about that medium). I made an entire animatic in pixels and later it was chucked for being too chaotic (Shekar said). We reused the previous animatic with few new scenes and made it apt for the new storyline.
(I'll tell the storyline along with the final film. I'm not going to spoil it here you dumbos)
Guess what happened after 2 weeks in the international presentation. Shekar shouted at us in front of the other international students and straight up told us our work is BS. Just threw us under the bus. One of our teammates made artwork for our then-current situation.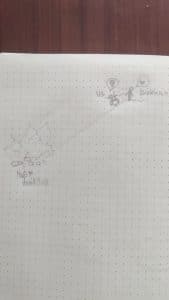 Well, in spite of that mental tantrum we perceived. We made a few scenes on pixel art. We asked for a meet to review. He called us prodigies and that we don't need help (no he did not listen to our improved concept). He had sent us another animatic based on the previous story which we ignored and worked on the pixel animation. We showed it in our next presentation. and guess what Shekar said, "It's happening again". Yep, coz he did not listen to our story and denied meeting with us. Isabel (remember that KHM's Faculty?) told us that we might not be qualifying for the final animation with what we have right now. Comparatively, we had almost the same number of scenes and animatic as other teams at that time. Pffff.
Part 3: Production on fire
We did not know what to next. We were stuck. We needed feedback. This is the first time we are animating. We know shit about pre-production or post-production. We called for people to look at our animatic and give us feedback. We got pretty good feedback. We started animating scenes according to the animatic we already had with few minor changes.
It's almost 2 weeks before the submission of the final film. We are working day and night. We decided not to talk to the only guide (Shekar) we had at that time. We made animations in pixels for almost half the film. Shekar asked if our class need anyone to give feedback like Troy or Bhasker which he promised he will arrange for us. Well, at least he asked. He brought Amirta Warrier and man did he bring the right person? (he did).
Amrita told us that we are on the right track and asked us to build the world before we proceed. We discussed and whatever she told us helped us desperate ppl who were so desperate for good insights. And she gave us that little encouragement we deserved. We worked on the corrections and we made the film except for 2 scenes and showed it in the presentation. Man! were they surprised? Everyone was so surprised by the developments.
Part 4: Winning the competition
Of course, it is not supposed to be a competition. But it turned into one. We were in a constant loop with Amirta and made the film. We contacted Bhasker for his views, he said "Sound design for it".
Yep, we did not think about sound design till then. We designed the sound and corrected a few scenes. We showed the film to few people and user-tested it if they get the concept. Unfortunately, a scene we added made all the confusion. We removed it but then Shekar wanted it, so whatever. We made 2 versions, one for the portfolio and one for the exchange. And boy did we submit on time. We were the 2nd team to submit. (Remember? 2weeks back, Isabel told us we might not qualify)
Anyways, here is our final film.
And if you have seen the video, here is the concept.
'The film is an allusion to the interpersonal relationship between human society and the systems they manifest to control themselves against different values (eg. gay marriage, school, basic rules and literally anything that we humans tell ourselves).

The girl here represents society and the eggs are the groups of people with various values who are either praised or discriminated against. The kid judges them through the game she plays on her phone.'
We have submitted our film and so did the other 20 teams. The films will be compiled and released on Vimeo by the KHM school. I'll put a link here once that happens.
And that's how the project/course (we still don't know what this is) came to an end.
P.S. This is another cover we designed for this film.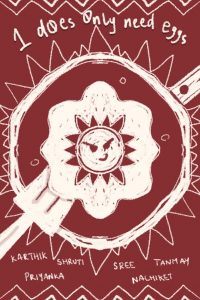 Cover by Priyanka (I think)
P.P.S. Please don't take everything at face value. Shekar might look bad in this post but trust me he is a good person. I know him personally and he is not like this always. He had too much stuff going on while we had this project, so I think we need to cut him some slack.